Our experienced contractors realize that keeping your facility's HVAC system fully functional and operating properly is a major component of a thriving business. Maintaining a comfortable, consistent environment for your employees and customers with a reliable heating and cooling system is essential, no matter the size of the space.
Studies have proven that having a consistent temperature in the workspace actually boosts employee morale and productivity levels. Customers that come into the facility expect it to be cool during the summer months and warm throughout the winter months.
All of our Mesa HVAC technicians are experienced, highly trained, and licensed to address all of your heating and cooling dilemmas. These HVAC professionals are qualified to service any modern commercial HVAC system properly. They can also help with commercial freezer problems and walk-in cooler repair.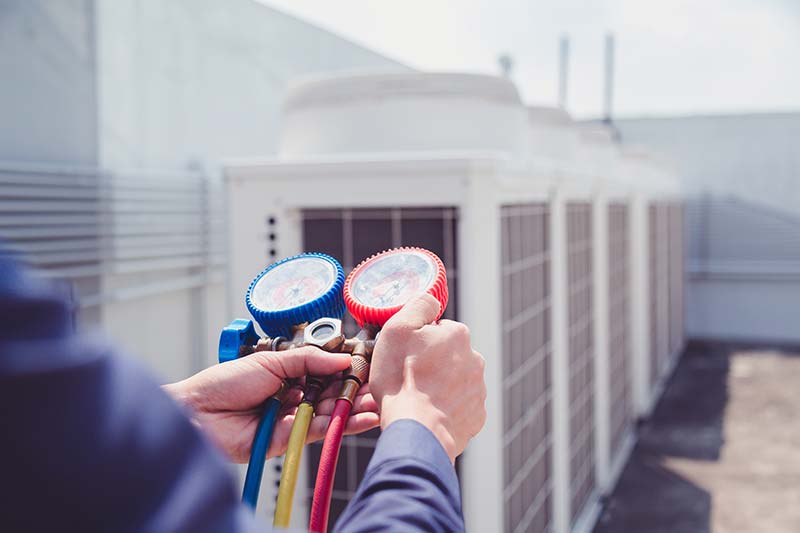 About Commercial HVAC Systems
A large amount of air needs to be moved around forcefully as you are cooling, heating, and ventilating a large commercial building. You also need the ability to control the temperature and humidity levels of multiple different rooms or zones of the space individually. The system you use for your business needs to be reliable and efficient to keep air conditions and overall temperatures well regulated throughout the space and reduce waste.
There is a complex system of parts and equipment that make up HVAC systems that must be managed and maintained properly.
Our HVAC technicians have the updated knowledge, tools, and training necessary to get the best results possible with every system we service.
Need Commercial HVAC Repair?
When you're working with the complex types of HVAC systems needed for regulating large commercial spaces, at some point you will face some problems. You need to have your HVAC system inspected and maintained once in a while. Avoiding a system failure will prevent any downtime in production that could be caused and you will be sure to keep your customers and employees comfortable. Monitor your monthly energy bills for efficiency.
Spikes in usage could indicate that your HVAC system may not be functioning properly and needs some attention. Check each zone of the building randomly to ensure that the temperatures are staying right where they should be. If you hear any loud or strange scraping or clanking sounds or notice any of these warning signs, you should call our experienced Mesa HVAC technicians to schedule a system inspection before you experience any major problems.
Commercial HVAC Maintenance Is Crucial
Maintaining your heating, cooling, and ventilation systems will improve efficiency and prevent any system failures. Regular maintenance for a large commercial system is essential whether it's done once a year or every few months. We recommend that all heating and cooling systems should be inspected at least twice a year. You can give our licensed HVAC professionals a call each Autumn and Spring to check things out before your system will be used the most.
We also specialize in the inspection and maintenance of all commercial heating and cooling units. Ask about our commercial refrigeration service to keep your walk-in coolers and freezers working properly. No matter how great or small your maintenance and service needs are, we will help ensure that your systems are reliable and efficient.
Installing Commercial HVAC Systems
When you decide to install a new HVAC system in a large space, you're going to be making a major investment. We are one of Mesa's finest commercial HVAC contractors. We have the tools and skills needed to get the job done right the first time. Be sure that the size of the system you're planning to install is adequate to move enough air throughout the entire space.
If the HVAC unit is too small it can't push enough air to regulate the space. If the unit is too big for your space it could cause the system to short cycle and run more often than it should. This will simply overwork the system and wear down the equipment faster. Our skilled HVAC technicians can help you find the most suitable system for your space. They will install it properly, and even teach you and your employees the proper operating procedures.
We work to provide the highest standard of care for your commercial HVAC system. You want to keep your customers and employees as comfortable as possible in your commercial space. Our technicians will help prevent system inefficiencies and failures that could result in unwanted, unnecessary costs. You can depend on our professionals to pay full attention to detail, provide quality service and excellent customer care to fit the specific needs of your commercial system. If you own a business in the Mesa area, give us a call today for professional help with your heating and cooling needs. We are one of the most recommended commercial HVAC contractors in Mesa.
Our committed HVAC experts and professionals are ready to tackle any Mesa area commercial refrigeration project
If you are thinking of installing a new commercial refrigeration unit or need a walk-in cooler repair or replacement, our HVAC technicians are ready to service any type of system. Our professionals are qualified and equipped to handle any Mesa area commercial refrigeration situation, 24 hours a day, seven days a week. If you are in need of commercial refrigeration service, please call today (480)-651-8361.
We offer commercial refrigeration service to multiple facilities from various industries
Mesa restaurants
Mesa community centers
Mesa factories
Mesa schools
Mesa hotels
Mesa area industrial offices
Mesa assisted living homes
Mesa veterans hospitals
Benefits Of Commercial Refrigeration In Mesa
When you're serving a large number of employees and customers, people are moving about, flowing in and out, your Mesa business will need commercial quality refrigeration service. Our local HVAC service in Mesa has professionals with the skills and knowledge necessary to handle any refrigeration problem you may come across.
We recommend professional maintenance and repair for all commercial refrigeration systems in the Mesa area. No matter how big or small the issue is, we can handle the repair and save your business time and money in the process. For repairs, old systems that need replacing, or new installs, we can meet all of your commercial refrigeration service needs in Mesa.
Looking For Commercial Refrigeration Repair In Mesa?
We Offer 24 Hour Emergency Refrigeration Repairs We provide residential and commercial service to customers in the Mesa area. Our reliable and affordable contractors provide Mesa area customers with freezer and walk-in cooler repairs. Our professionals specialize in restaurant freezer repair and even handle residential and commercial appliance maintenance and repair.
We Guarantee Repairs That We Perform On All Major Appliances
 If you're looking for dependable, affordable Mesa area commercial refrigerator repair service, call us today. We offer a 100% guarantee on service and repairs performed by our contractors. We will keep your appliances and walk-in cooler operating properly.
For Commercial Refrigeration Service or Repair In Mesa Call Today
Some Commercial Appliances That We Repair:
Commercial Ice Machine Repair for Mesa businesses
Walk-in coolers in Mesa long term care facility kitchens
Milk Cooler Repair in Mesa schools
Refrigerated display cases in Mesa stores
Walk-in and reach-in coolers in Mesa restaurants
Wine Coolers and under-counter refrigeration in Mesa bars